The unsolicited testimonials we receive from our clients highlight the level of attention and integrity we offer every client. Our commitment to providing you with high quality service and excellent returns on your investments is our driving force.
Simone came on board with Kindred when we first started the company. She established all of our book keeping, reporting and accounting practices. As the company grew our P&L and headcount, Simone kept up with all that comes with that growth in a seamless way. She interacts with our banks, our tax team and our staff in a positive and no non-sense manner. We'd highly recommend her in every way.
-Rob Howard
Kindred Motorworks
BusiBee is an understatement for Simone's company name. She is the most efficient and responsive person I know.  The time it takes BusiBee to clean up your books is really dependent upon you - the client. Once Simone has all the information she turns it around very quickly with specific questions if needed and foresight as to what you need to be planning for going forward. Always prepared, BusiBee keeps her clients prepped for deadlines. There are no surprises. Simone, the BusiBee is wonderful.
-Garrett O'Doherty
Synergy Meeting Solutions
Simone is amazing. She has done our bookkeeping for 10 plus years. Our U.S.-based company has branches in Germany, and her knowledge of German and California accounting laws is solid.
She is 100% present in what she does. Simone is very professional, highly skilled with the ins and outs of all our bookkeeping needs and handles challenges with ease. Her enthusiasm and humor are infectious as she delivers answers to any question we have.
There is only one surprise working with Simone, you ask a complicated question, and she knows or finds the answer quickly. No worry is needed. Thank you, Simone!

- Jochen Rohr
Rohr Motorsport, Rohr LLC
It's a well known fact the dentist have a rewarding job yet a very difficult one. Not only technology and dental science changing rapidly but also our financial needs. Having an accounting specialist like Simone is essential for the success of any dental practice or business. Simone has helped me overcome the unnecessary stress I have felt for years when it came to taxes and accounting. With modern and practical approach, Simone has been able to create a worry free system for my practice accounting. I trust her completely and appreciate her input 100%. My practice is better and more productive as I am able to dedicate more time to my patients.

- Rosemarie Goldstein, DDS
San Anselmo Family Dentistry
" Simone is the epitome of customer service, authenticity and good work. 
Her attention to details is excellent in the areas of bookkeeping, tax preparation and accounting standards.
I have truly enjoyed working with Simone for a decade as she is both efficient in her time; effective in her communication and tasks.
A true collaborator and committed individual with strong values and ethical standards."
~ Shamini Dhana,
Founder and CEO, Dhana Inc.
Simone has been my bookkeeper for several years. She is always timely, accurate to the penny, well informed and a pleasure to work with. I would highly recommend her services.

- Carla Daro Kaliski
Owner, Spiral Studio Marin
Simone is awesome!
Our company is the US branch of a German company and Simone is the solution to all our bookkeeping and accounting needs.
Not only is she very well acquainted with Californian but also German accounting laws and regulations. Her being German is a tremendous asset which makes our life much easier. She works directly with our CPA and we communicate fluently and on a regular basis with our German headquarter.
Simone works, fast, efficient and thoroughly. I know our books are in good hands and I don't have to worry about anything.
In addition to her being an excellent professional, she is a wonderful human being and I enjoy every minute with her. 
- Gisela Cartwright
Mala Closure Systems Inc.
Simone is extremely talented and experienced. We feel very comfortable with Simone preparing our QuickBooks. When she has questions or clarifications she always asks and is ahead of the curve. She is extremely honest, professional and easy to work with. I have the highest regard for Simone. She has taught us a tremendous amount.
-Steven Katz MD
REI Protect LLC
Simone is INCREDIBLE! She is meticulous, detail-oriented, and extremely professional. She is very helpful and always there to answer questions and assists with anything my business needs. She is the BEST and NOW power yoga is so fortunate to be working with her. 
-Susan Hauser
Owner NOW power yoga
Working with Simone has been great! Year after year her expertise has made running my small business a breeze.  Her accuracy, organization and timely reminders and reports have taken a lot off my plate.  Not only is the standard reporting done in an easy to follow method for myself and my accountant, but when I need special reports and deeper investigation into financial questions, she always has a solid answer and reports the information fast. She is a pleasure to work with I would recommend her to anyone looking forward trustworthy bookkeeping.
- Eric Zener
Owner Eric Zener Studio
Very professional and organized. She is easy to work with and extremely responsive and quick. She has really helped to organize the finances of my small business. I would recommend her for bookkeeping services! 
- Misha Mendosa
Misha Hawaii
Simone is meticulous, detail-oriented, and extremely conscientious. When it comes to our finances, she possesses the necessary skills that my business partner and I (a couple of creatives) lack. She makes sure we keep our filing deadlines and helps us understand the in's and out's of income and expenses. I can't imagine what our books would look like without her.
- Jeff O'Brien
StoryTK LLC
I want to thank Simone for the incredible effort she gave us in keeping our accounting and books straight and timely.  We had a quagmire of record keeping in our infancy, she was able to clear up our finances and get us ready for tax season.  Simone is always fast and crystal clear with our records.  Any questions are clearly answered and there are no surprises.   I highly recommend her services and it will save you hundreds of hours and headaches.
-   Brian and Ko Scarth 
Klozet Boutique - Sausalito CA.
Our experience with Simone is that she is an intelligent and enthusiastic bookkeeper that holds herself to high standards. She is diligent, responsive and a fast worker- remaining conscious and caring about the amount of time spent on the books. What I appreciate most is that Simone is happy doing what she does. She is indeed a busy bee with the heart of a VERY big cat.
- Uta Jehnich
Wisdom University/Ubiquity University
Simone is doing a great job for our bookkeeping needs. I never have to think about our books because I know everything is done right. She works with our CPA hand in hand and prepares everything to get our taxes done. I can concentrate on my business and not on my books. That helps a lot.
- Christian Springub
Jimdo, Inc.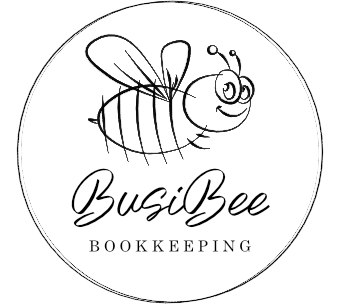 BusiBee Bookkeeping
2 Larkspur Lane
Novato, CA 94941
Tel.: 1-800-372-6670
email: simone@busibeebookkeeping.com